The Italian Festival Rides

Weekend Mega Pass​
$50 per person for mega pass up until 4:00pm on Thursday April 26th, 2018.

​Available at the Tickfaw City Hall.

On sale at Mater Dolorosa School in Independence, LA. They can be purchased there through Friday, April 27, 2018 at noon.
​
Passes will be $60 per person at the festival.​​​

​
Armbands​
​​​Armbands used in four (4) hour increments will also be available at the festival for $25.00. The times for these armbands are as follows:


​Friday 6:00 p.m. - 10:00 p.m.
Saturday 1:00 p.m. - 5:00 p.m.
Sunday 1:00 p.m. - 5:00 p.m.


​Gold Star Amusement has provided rides and games to the Italian Festival for many years and we are excited to welcome them back!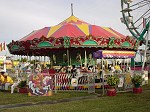 Gold Star Amusements is Back !!!!